SculpSure Non-Surgical Fat Reduction in Coatesville, PA
SculpSure Is A Non-Invasive Body Contouring To Reduce Fat In 25 Minutes
SculpSure may help people who have tried diet and exercise. Yet, some still encounter issues with stubborn fat pockets located in problem areas. Even the most athletic and nutrition-conscious people may have these trouble areas.
For these areas can resist rigorous diets and the most stringent exercise plans, SculpSure offers the convenience of a differentiated option for body contouring. This method addresses fat in areas where it would otherwise seem impossible to lose.
SculpSure is a non-surgical, non-invasive, and FDA-cleared approach to fat reduction. Painful and expensive surgical procedures can leave permanent scars on your skin. Whereas, the method provides reliable fat reduction, up to 24% of fat cells in a treated area.
Our team can help you address problems areas such as:
Love handles

Belly

Back

Inner & outer thighs
The method does not affect the surface of the skin. Therefore, a SculpSure session can easily be booked over lunchtime for busy, working professionals. After just 25 minutes of your time, you can go on with your daily activities.
By using this reliable & FDA-cleared laser technology, we can address those trouble areas with the technology.
Other invasive treatments can leave you disabled for days or weeks. Alternatively, SculpSure allows the patient to be in and out within 30 minutes. The process is simple and convenient:
The licensed practitioner will mark the treatment areas on your body. A

 belt is wrapped around the patient. The patient is seated in a comfortable, reclined position. T

hen, the session starts with a cooling sensation to prepare the skin

The laser starts cycling on and off. 

The laser targets the fat cells under the skin and heats them without damaging the surface. Patients often experience a mild tingling sensation at times. The applicators deliver a 1060-nanometer diode Class IV Laser that effectively helps to eliminate unwanted fat in the treatment area

Rotations of cold and heat damage the structural integrity of the fat cells. 

Damaged fat cells are eliminated naturally by the body through the lymphatic system
During the session, you can read, be on your phone, or simply relax. Results may be noticed between 8 to 12 weeks depending on patients. However, most patients see results after receiving a series of treatments.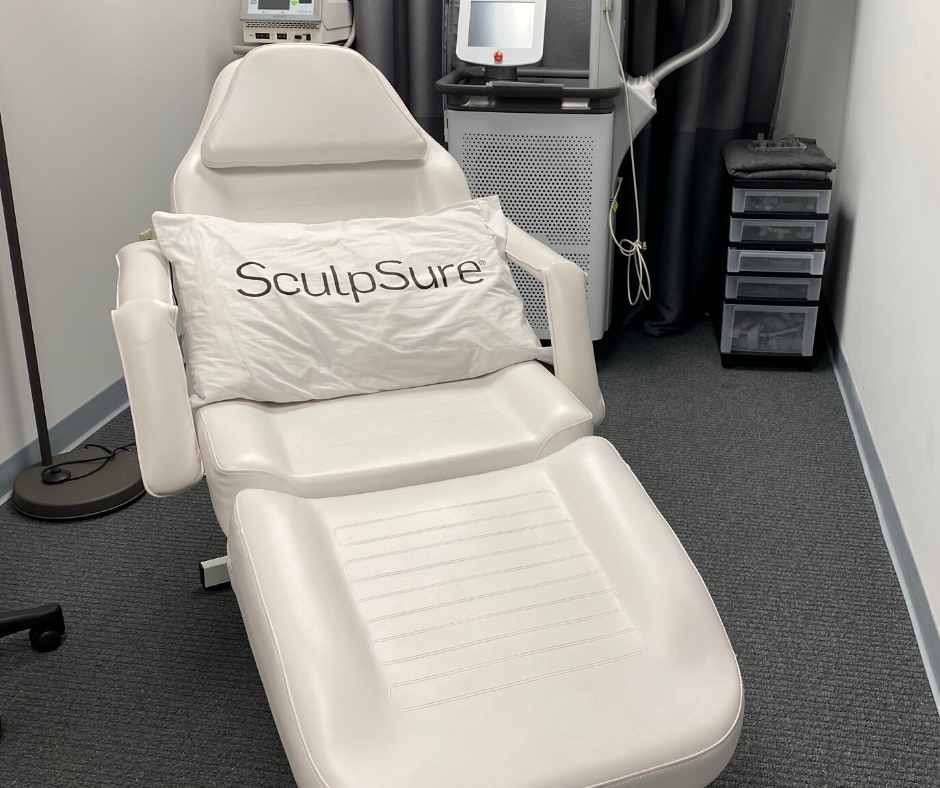 Is Sculpsure WarmSculpting For You?
A consultation with our staff will determine whether or not this method is the best method for you.
Ultimately, diet and exercise may not address the areas that you intend to target. However, it is important to note that the SculpSure method is not a weight-loss program. Hence, it is not intended to replace diet or exercise. 
The method is a supplemental method to address those trouble areas of fat. If a patient gains weight during the program, the remaining fat cells will increase in size. This would reduce the results that were achieved.
It is important that patients interested in the method are at or near their desired weight. Further, they should maintain a balanced lifestyle that includes eating portion-sized nutritious foods and exercising. If these prerequisites are met, then the process can begin. 
Schedule an appointment with our professionals to determine if SculpSure is right for you!
Why Agape for WarmSculpting™?
If you want to remove excess fat and improve the tightness of your skin, we can help you improve your look and build your confidence. We have been working for years to help patients achieve a slimmer look without surgery or downtime.
Our experience can guide you through the process. Our convenient location means we can provide a customizable treatment plan that you can begin, today!
Would You Like $500 Off Your SculpSure Treatment?
SculpSure® helps you safely reduce stubborn fat in problem areas such as the belly, love handles, back and thighs–with a treatment plan that is customized to the results you desire.
We are proud to offer this unique method! The no-downtime, non-invasive body contouring laser!
This offer is limited – so hurry! Call today for your free complimentary consultation and see if you qualify for our "Before & After SculpSure® Program". We are looking for 5 participants and we will select them in the order in which they respond. Fill out the form below or call us today for your free complimentary consultation!
Would You Like $500 Off Your SculpSure Program?
For the most advanced and efficient techniques and assistance for your health problems,  contact Agape Institute of Functional Health and Chiropractic.