Hyperbaric Chambers in Coatesville, PA
Sign Up For Your Hyperbaric Chamber Session Today!
Hyperbaric Chambers in Coatesville, PA: We are now offering Hyperbaric Therapy Consultations at a cost of $150 which also includes a free therapy session.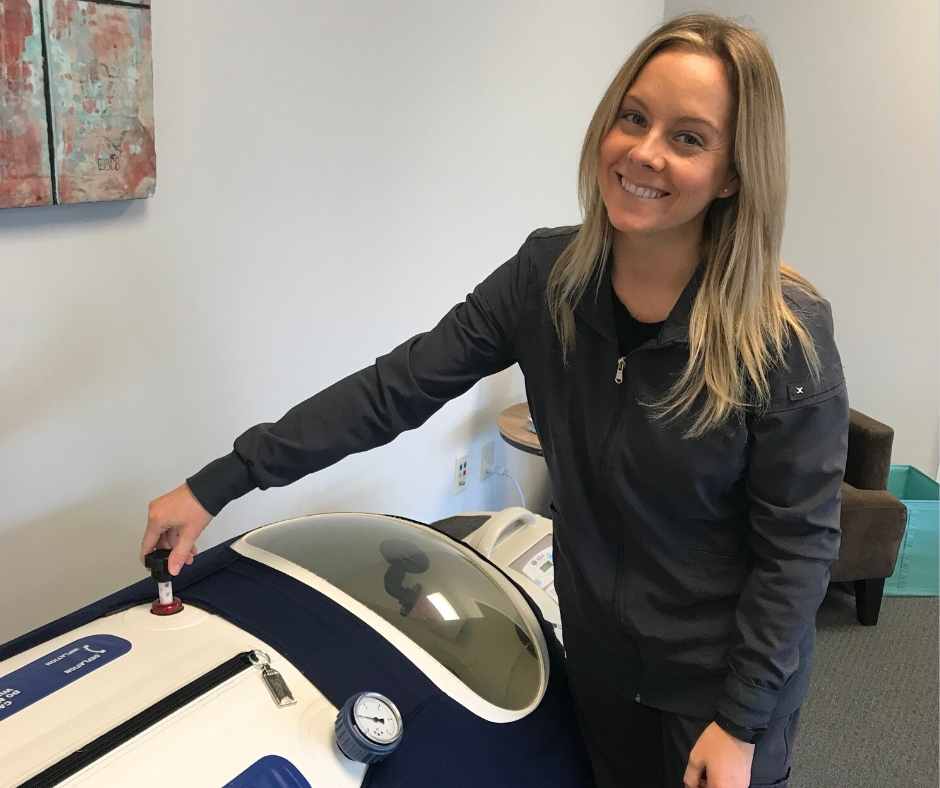 Hyperbaric Chambers Can Help You Heal And Regenerate
A hyperbaric chamber is used in Hyperbaric Oxygen Therapy (HBOT). It is a natural method for enhancing the body's natural ability for healing, injury repair, and brain function. 
The benefits of a hyperbaric chamber may be experienced if you: 
Got recently injured 

Suffer from a wound not properly healing 

Want to improve your sports performance

Try to control an infection

Need to improve your blood flow due to a condition

Decrease markers of inflammation in the brain and body

Look to minimize certain medications
Fundamentally, the intent of a hyperbaric chamber is to increase the oxygen concentration in the air breathed by the patient. Sessions last anywhere from one to two hours. 
Hence, oxygen concentration and pressure levels are increased within the hyperbaric chamber. This leads to greater levels of oxygen absorption being observed during hyperbaric oxygen therapy.
After being absorbed by the lungs and the plasma of the body, the body has elevated pressure and oxygen concentration levels. This allows for more oxygen to be circulated throughout the body.
The circulation is done much more efficiently and thoroughly while within a hyperbaric chamber. 
While participating in hyperbaric oxygen therapy, oxygen can be better circulated and absorbed throughout:
Body tissues, organs and cells

The brain and cerebral spinal fluid

Bone & muscle tissue

Lymphatic system
When high-oxygen concentrated blood is able to better reach these areas, the positive effects of hyperbaric oxygen therapy can be observed.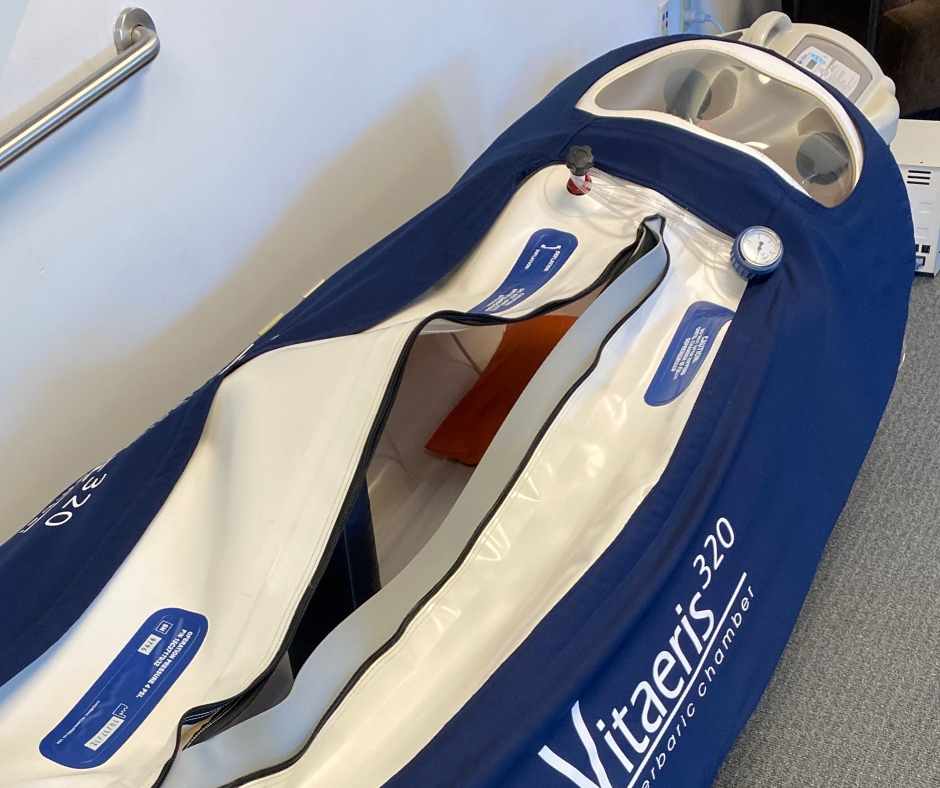 Hyperbaric Chambers Are Part Of Healing And Preparation Strategies For A Reason
Improvements have been noted after repeated sessions of hyperbaric oxygen therapy in the hyperbaric chamber such as:
Reduced inflammation 

Increased blood flow

Improved healing from wounds & skin-related issues

Bolstering of the immune system

Reduced swelling from bacterial infections

Improved sleep patterns

Reduced levels of stress and anxiety

Reduced brain fog and memory problems
Sessions in the hyperbaric chamber (also known as Dives) have demonstrated positive results in improving these functions. If you are interested in learning more about how hyperbaric oxygen therapy can help you, reach out to our team today! 
Hyperbaric Chamber Dives: What To Expect?
Hyperbaric chamber dives (HBOT) have been proven to help with a great variety of medical conditions. However, each patient must first be evaluated before the dive takes place. 
The first step is an initial consultation with Dr. Stephen Conicello. During this, he will determine whether the hyperbaric chamber is an appropriate approach for the patient. If the patient is a candidate for the hyperbaric chamber, Dr. Conicello will customize an HBOT healing plan.
When speaking pressure and oxygen, it can be easy to feel intimidated by hyperbaric oxygen therapy or a hyperbaric chamber. However, this method of rehabilitation is non-invasive and simple.
Ultimately, the process is quite straight-forward. When beginning hyperbaric oxygen therapy, the patient simply lays down in a hyperbaric chamber, which is an enclosed, tube-like unit.
To begin, once the patient has entered the hyperbaric chamber, it is closed with a zipper to ensure that oxygen can not escape the unit. After closure, one of our experienced team members will activate the machine. This progressively increases the pressure and oxygen concentration within the hyperbaric chamber.  The chamber is over 7 feet in length and 3 ⅓ feet in height once inflated.
In increments ranging from one to two hours, the patient simply lays within the hyperbaric chamber. There is no heavy mask, obstructive suit, or otherwise uncomfortable addition.  The patient can take their phone into the chamber to watch videos and listen to music or read a book. Some patients even take a nap!
After the time of the session has passed, the patient can continue with their day feeling refreshed and rejuvenated.
Are you ready to give a try to the hyperbaric chamber? Reach out to our staff today to schedule an evaluation appointment with Dr. Stephen Conicello.
Make The Hyperbaric Chamber Therapy Part Of Your Healing Strategy
Hyperbaric oxygen therapy is simple, easy, and non-invasive, but the potential benefits are astounding. Many studies show evidence that spending time in the hyperbaric chamber can increase overall wellbeing and health.
If recovering from an injury, hyperbaric oxygen therapy has the potential to reduce downtime, increase healing efficiency, and improve natural bodily functions of repair. Some of the conditions and areas where benefits have been most often recorded include:
Concussion and Post-concussion syndrome

Chronic Traumatic Encephalopathy (CTE)

Spectrum disorders

Muscle tension, stiffness, and stress relief

Burn relief
Furthermore, the researched ability for the hyperbaric chamber to reduce symptoms and enhance growth, healing, and rehabilitation. These are just a few of the reasons to consider hyperbaric oxygen therapy. 
Across the country, HBOT and hyperbaric chambers are used by patients suffering from:
Alzheimer disease

Rheumatoid arthritis

Headache, Migraine

PTSD

Arterial insufficiency

Brain injury

Anemia

Parkinson's disease

Cancers

Sclerosis

Diabetes

Stroke

Chronic pain

Autism, Aspergers and ADHD

Burns, soft tissue infection & non-healing wounds

Crohn's disease

Fractures
Reach out to our team to learn more.
Hyperbaric Chamber Therapy Helps Increase Your Athletic Performance
Many top athletes use the hyperbaric chambers as part of their training routine. Beyond the specific disorders or ailments, hyperbaric oxygen therapy has shown positive results for athletes in naturally enhancing their performance. 
The use of a hyperbaric chamber and hyperbaric oxygen therapy has become increasingly popular among professional athletes. Fundamentally, it's not hard to understand why. The hyperbaric chamber has gained a lot of momentum in the domain of professional sports.
By enhancing the concentration of oxygen in the bloodstream, athletes have been reported to have experienced a number of benefits including:
Improved recovery time from injuries

Heightened levels of performance

Quickened recovery from high-intensity training and exercise

Enhanced levels of mental focus and fortitude
At your request, Dr. Conicello and our staff will be able to direct you towards the most effective methods to achieve your goals. These may change depending on what you intend to see improve, whether that be healing a prior injury or improving future performance.
Connect with our team for more information about hyperbaric oxygen therapy, the hyperbaric chamber, or how to improve your levels of wellness today.
Sign Up For Your Hyperbaric Chamber Session Today!
We are now offering Hyperbaric Chamber Consultations at a cost of $150 which also includes a free therapy session.
For the most advanced and efficient techniques and assistance for your health problems,  contact Agape Institute of Functional Health and Chiropractic.